Internship Interview Tip
by HoopUte
2017-01-05 13:52:29
Contrary to what I heard earlier today, the answer to the phone interview question:

"Can you tell us a little about yourself and why you are interested in this position?"

is not:

"Well I'd like to get some more experience in your industry so after I graduate I could get a job with someone like [your competitor], [one of your customers], or maybe just with [your company]."

Please make a note of it.
Foster Farms Bowl Game Day Transportation Expertise Questions
by HoopUte
2016-12-19 09:59:31
My wife and I are going to the FFB, flying into Oakland and planning to take BART over to the area of the Grand Hyatt where the team is staying. The Alumni Association has said they were looking into setting up bus transportation from the Grand Hyatt to the game, but that hasn't been sealed yet. Therefore, especially for any Bay Area Utes, what are the best alternatives? A couple of ideas we've had:

1) BART as far as you can then take the commuter train that has the station near Great America, which is then a short walk to Levi's Stadium.

2) Single day car rental for the day of the game. Cars are pretty damned expensive over that time period -- pushing $300 for the 27th to 29th. A twist on this if people were interested could be to rent a van and split the costs.

3) Other ideas I have no idea about because I'm not in the Bay Area.

TIA

Go Utes!!
One needs to only compare the lead paragraphs from the DNews/KSL v SLTrib to see the motives behind the audit
by HoopUte
2016-11-16 07:56:19
Here it is from the Trib


A comprehensive legislative audit of the University of Utah athletic department set off no financial alarms. Instead, auditors suggested Tuesday that the Utes do some tidying up in reporting finances, tracking inventory and facility access, and hiring and drawing up contracts for employees.
Ordered in February by the state Legislature's audit subcommittee, the report recommended stronger adherence to university procedures across the board for Utah athletics — all of which the department agreed to address in a hearing at the Capitol on Tuesday afternoon.



And here from the DNews/KSL


University of Utah basketball coach Larry Krystkowiak has yet to pay the $80,000 cancellation fee he vowed to personally cover for breaking a contract to play BYUthis year, according to a legislative audit released Tuesday.

Instead, the university paid the fee and the coach will repay the money in four installments over four years. Krystkowiak made the first $20,000 payment from his Kyrstko Foundation, but auditors say they were unable to independently confirm if he used personal or donated funds.



It always was, and forever will be, about Krystkowiak being the adult in the room and canceling the game with those dicks. As they spin away, later in the DNews/KSL story they characterize the debt in the U athletic department as a deficit. Uh, no. It's being repaid and the audit praises their finances.

Just another reason why I wish we could just drop these bozos once and for all.
The last time we played a football game on my birthday, my 50th, we won 50-0
by HoopUte
2016-11-07 08:54:34
That's the memorable game against Wyoming when Joe Glenn gave Whit the finger. But I like the result. So, I assume we can win this week 59-0 if all goes well, or maybe it's two years from now when Nov. 10 actually is on a Saturday and it will be 61-0. I can work with either.
Here's a good example, IMO, of why RockerUte did the right thing with respect to GSU's posts
by HoopUte
2016-07-30 21:01:03
http://gephardtdaily.com/local/reported-d eath-threats-prompt-urgent-request-from-mo rgan-county-sheriff/

Way too many nuts out there, and as I told Rocker back when this was all starting, I wouldn't want to have information that could have prevented a tragedy and not done anything about it.
At the risk of starting an argument, I'd like to solicit some input from bicyclists on hitch mount racks
by HoopUte
2016-07-29 18:45:20
I've decided that I'm too old, and short, to keep dealing with a roof rack, so today I had a 2-in receiver hitch put on the car (at retirement I also plan on pulling something light) and am researching racks. (I can't believe someone won't twist that into something else very soon, but it will be worth it if there are pictures.) I'm going to go with a platform style so as not to hassle with none of the bikes in our household having straight top tubes.

Anyway, good ones seem to be the Kuat NV 2, the Thule Doubletrack 2, and the Yakima Holdup 2. Does anyone have any direct experience with these, or others? Pros/Cons. I'm kind of leaning toward the Kuat right now because of ease of on/off the car, weight, and the built-in locks.

TIA
In troubling times like these, it's always nice to know that UF.N is a refuge for thoughtful, respectful, intelligent discussion of complex issues
by HoopUte
2016-07-08 09:20:31
Oh, I'm sorry. I meant "from" not "for."
Happy 90th Birthday to the one and only Mel Brooks
by HoopUte
2016-06-28 19:14:40


I laugh every time I see the audience shots in this piece. IMO it's pure genius.

Edit: That, and I always seem to want some pretzels after this.
Is there a bigger BS story out there in the last 24 hours than the claim of the "porn sniffing dog?"
by HoopUte
2016-06-22 08:01:14
http://kutv.com/news/local/weber-county-i ntroduces-its-new-porn-sniffing-dog

http://www.sltrib.com/news/4031044-155/ut ah-k-9-sniffs-out-porn-

OK, maybe the dog can sniff out digital media, but to zero that in as an ability to find porn is complete and total bovine excrement. How amazing is it anyway that a dog might be able to sniff out CDs or thumbdrives next to a computer? "Oooo, way to go URL. Good boy!" This dog could no more sniff out porn than detect whether or not there's a Golf Digest in my stack of magazines I haven't gotten to yet.
"Call a travel or a foul, but just blow the whistle and give the ball to Utah. Anything else is an affront to human decency." -- Bill Walton
by HoopUte
2016-02-27 19:14:58
Love the guy.
Ah, another morning where I am reminded how happy I am a lot of people aren't coaches and/or leaders of young men.
by HoopUte
2016-02-05 07:13:08
Individual blame and finger pointing accomplishes nothing for one's team. Fortunately I believe Larry gets that.

Rough loss, but it's just one game. Not worth some of the vitriol IMO.
Don't look now, folks, but our basketball team may be back
by HoopUte
2016-01-24 21:03:25
These last two games (and really you could say 2 1/2 games) have been completely different than how we started conference play. My hopes are back up. I'm thinking the regular season conference champ may have 6 losses. This is crazy -- and fun.
It's letters like these that reinforce to me how far in the right the U is in this whole thing
by HoopUte
2016-01-12 09:24:38
This letter is in today's SL Tribune.

http://www.sltrib.com/opinion/3405663-155 /letter-review-utah-byu-decision

I also saw a very similar post this morning in the FB Utenation group by someone else. It's really hard to imagine an attitude that contributes more to the Utah/BYU tensions than this. The bigotry expressed, and the entitlement these individuals feel to control everything in the state is practically beyond belief. People like this are a huge part of "the problem," and not Larry Krystkowiak, Chris Hill, or David Pershing.
Not really basketball, but who else loved FS1's repeated showing of the Tostitos Dip-itizer commercial immediately followed by the Alka Selzer commercial?
by HoopUte
2016-01-08 21:08:15
FritoLay may want to have a talk with them about that.
Whew!
by HoopUte
2016-01-08 20:59:29
Not pretty but it's the same as a blow out in the W/L & standings.

BTW, how old is Josh Scott? The dude looks like he could be Tim Duncan's older brother.
Nice half Utes!
by HoopUte
2015-12-19 10:53:24
Hurt a little on turnovers (again), and what gets to me about that is I don't think I've ever seen a team get called for more illegal screens than it seems like we do this year. But all things considered, having Poeltl out for the last 4+ minutes, we are in good shape, especially with the short rotation for Duke.

Go Utes!
Zoobs being Zoobs, courtesy of KSL's resident nitwits
by HoopUte
2015-12-19 10:02:59
My wife just called to tell me what she just heard on KSL radio while she was out driving around. She prefaced it with, "This will make you puke."

What these bozos were saying was that they're sure that Kalani Sitaki will be the new coach, and the best way to make that announcement would be to have him carry the Zoob flag with the Zoob alumni as they race onto the field. In this fantasy world, the Zoobs would go crazy and have added motivation to start the game, while Utah players recruited by Sitaki would feel abandoned and hurt.

I swear these guys wake up in the morning and drink their bathwater to start the day.
Well it is what it is. I just hope we kick the $#!+ out of those bastards
by HoopUte
2015-12-06 14:09:32
https://twitter.com/LasVegasBowl?ref_src= twsrc%5Egoogle%7Ctwcamp%5Eserp%7Ctwgr%5Eau thor
This sucks!
by HoopUte
2015-12-04 15:43:03
I had been hoping that Donco would continue to do just well enough at the Zoo to not get fired, thereby providing continual comic relief.
Health Benefits of Coffee
by HoopUte
2015-12-04 14:34:23
http://authoritynutrition.com/top-13-evid ence-based-health-benefits-of-coffee/

The best one has got to be how it could reduce the risk of cirrhosis of the liver, which means since I drink coffee I can also have a couple of drinks tonight.


Cheers.
Sorry if this got hashed out the other day, as I didn't see it, but here's a guy that thinks all U parking lots should be closed on football game days
by HoopUte
2015-11-27 09:52:22
http://www.sltrib.com/opinion/3218890-155 /letter-va-patients-take-priority-over

Some on the board might recognize my responses in the comment section under my Discus monikor, but this doctor is a moron. First off, his premise that the only way into the VA is off of 500 South (even though he calls it Foothill Dr.) is incorrect. But it's his proposed solution under a fake guise of caring for Vets that really irked me. IMO the bottom line is this guy is whining about his inconvenience that's happened once, and somehow it never connected in his mind what that big stadium structure might be used for periodically and if that might affect him in any way.
Morning report from Tucson
by HoopUte
2015-11-14 08:37:27
It's a beautiful day here. I won't say, "Let's play two," because that would run too late into Sunday.

The Arizona Daily Star writers don't give the Wildcats much of a chance. Not sure I like that. They also describe Travis as one of the conference's "premier quarterbacks." Take that TW haters.

It's "blue out" for the UA fans. We are sitting with some friends from here tonight and I told them we would speckle the stadium with crimson and white.

GO UTES!
Well this explains a lot
by HoopUte
2015-10-22 16:31:49
http://www.sltrib.com/home/3090829-155/ut ah-researcher-the-louder-the-howler



A University of Utah researcher co-authored a study released Thursday that reveals size does indeed matter — at least when it comes to howler monkey testicles.

Primatologist Leslie Knapp, professor and chair of the [University of Utah's] Department of Anthropology, found that the smaller a howler monkey's testicles are, the deeper and louder his mating calls.
Clarification? I'm not sure that's the right word
by HoopUte
2015-09-30 10:50:20
"I really, really believed we had a great chance to win the game, going into it, and to not have played well, after really believing it was not possible that we wouldn't play well, the starting over part, to me, if I were to reframe it, we have played four games, we have won two, lost two. We have played well in three, not played well in one. And I think it is just a new start for the rest of the year," [Roscoe] clarified Monday.


http://www.sltrib.com/sports/3005575-155/ byu-football-reality-bites-cougars-lofty

That reads to me more like it could have been a quote from this guy:


Small World: The sad "Alabama" honeymoon couple
by HoopUte
2015-09-21 07:28:02
I'm sure 99% of you have seen this photo: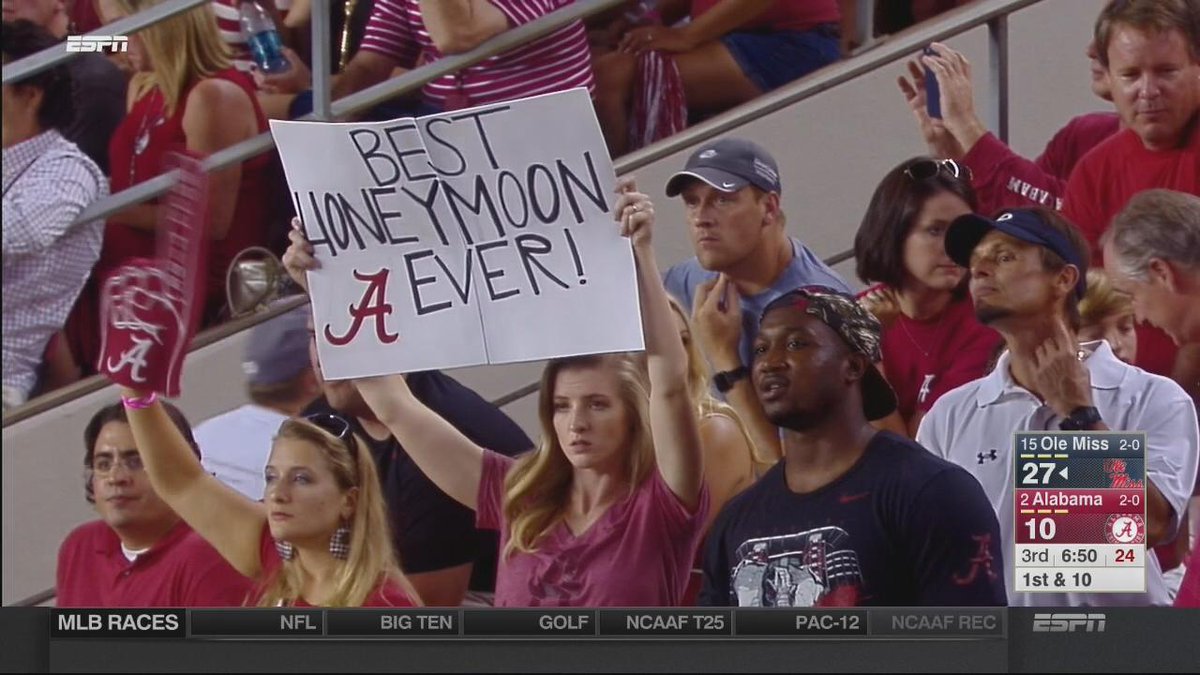 Some of you may have also heard via Fox13 or others that this is a Utah couple who live in WVC. Alyssa and George are actually very good friends of my son and his wife. George and my kid play in an amateur football league together. Apparently in spite of the loss the newlyweds don't consider the event a failure, even with the ribbing from their 15 minutes of fame.
Our old friend Val Hale is giving a lecture at my work tomorrow
by HoopUte
2015-08-18 10:43:30
It's called, "Economic Opportunities and Priorities in Utah," as part of his gig as GOED chairman. I'm hoping there's some Q&A time so I can ask him how he feels about big flags at football games. Anyone have any other ideas for questions?


You've got to love that Southern mentality
by HoopUte
2015-07-30 12:56:56
My wife's sister, who's been living in a very small Arkansas town for many years, flew in for a visit this morning. She was telling my wife, and their brother's wife about her grand-daughter's boyfriend, and the brother's wife picked up on something in how she was describing him. The conversation went:

"So, is he African-American?"

"No, he's 100% black."

Apparently my wife's sister still doesn't get why they laughed at her over that reply.
Wait a minute! We've had it on good authority on this board that Brazil really has its act together, and now this?
by HoopUte
2015-07-30 07:50:50
http://www.sltrib.com/news/2785201-155/ap -investigation-filthy-rio-water-a
My favorite coverage of the weekend festivities
by HoopUte
2015-07-27 08:29:57
Thursday night KSL had the obligatory live coverage of the people camping out for the parade, and had Ashley Kewish set up in front of a vendor selling Fat Boy ice cream. Back in the studio Nadeen Wimmer asks, "Do they have any Fat Boys left?" As if on cue, a morbidly obese guy with a hand full of little US flags comes up into the shot, photo bombs Ashley Kewish by waving the flags, and Ashley says, "Oh, you mean the ice cream!"

I would hope somehow that clip can make it to "The Soup" this week.
Cool picture: The ISS transiting in front of the moon
by HoopUte
2015-07-08 11:15:24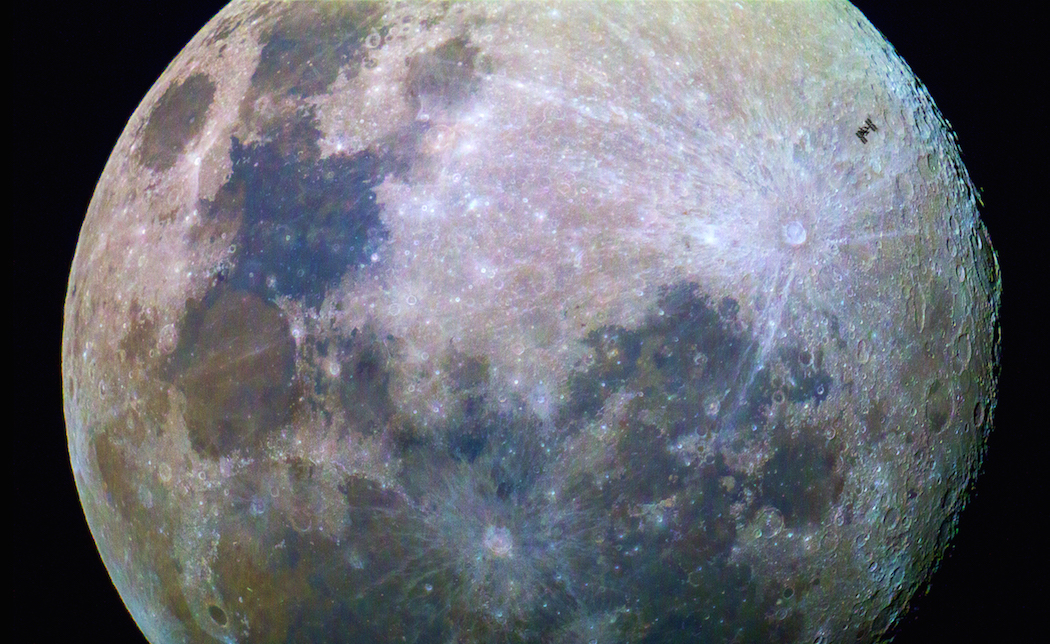 The photo was taken by an Australian photographer who planned it out a year in advance. He had about 1/3 of a second in which to catch the shot.

http://spaceflightnow.com/2015/07/07/phot ographer-catches-space-station-transiting - the-moon/