For all users. This page is automatically generated and contains the most recent and best work on the message board.
Post Statistics:
* Note: Current rankings are based on activity in the last calendar year.
Recent Topics:
Just wanted to give a plug for a website I came across.
by UteThunder
2014-04-12 16:04:40
System-tips.net

I was hit with a virus earlier today and while searching for a solution I found this site. The site administrator helped me out, no charge. And there is lots of good info on his site.

If you get hit with a virus or are having computer problems of any kind, look up this site and see if they can help you.
After the disappointing news I received today, nothing could ever sum up how I feel about my job right now better than this . . .
by UteThunder
2014-03-25 19:58:04
Love the news that Wilson is back, but cautious optimism is warranted.
by UteThunder
2014-02-24 21:38:58
He has been cleared to play Spring Ball with no contact.

What if He doesn't get cleared for contact before the season? Or ever?

Having Travis participate in Spring Ball is important, if he is cleared to play full contact before the opener.

However, it is detrimental, if he isn't eventually cleared to play full contact because he will be taking time from the other QB's and their development.

Really hoping He makes it all the way back.

Go Travis! Go Utes!
Some things to consider when looking at Utah's #68 recruiting ranking on Rivals.
by UteThunder
2014-02-06 14:00:21
- #68 Utah only "signed" 19 players this year while 60 of the 67 schools ranked ahead of Utah signed more than 19 players with an estimated average of 6 more players per school.

- Schools ranked higher than Utah with the same 19 or fewer signees(# of signees in parentheses):

#10 USC (19)
#18 UCLA (18)
#31 Michigan (16)
#40 Virginia (17)
#54 Maryland (17)
#58 Duke (18)
#60 Iowa (19)

- Utah's Rivals score is 1149, or just over 60 points per commit. If Utah were to add 6 more players averaging 60 points per player to get to the average of 25 signees, Utah's score would jump to 1509 moving Utah from #68 to right behind #35 Missouri(28) and ahead of #36 Washington(23).

- Several schools ranked ahead of Utah have 9+ more commits:

#4 Florida State (29)
#5 Tennessee (31)
#17 Kentucky (29)
#25 VA Tech (28)
#27 OK State (28)
#28 Arizona (28)
#30 NC State (31)
#35 Missouri (28)
#39 South Florida (28)
#42 Boston College (28)
#49 Oregon State (28)
#60 Western Michigan (28)

Even if Utah added 10-12 players I don't think their class would move into the top 5 with the Vols and 'Noles, but if Utah added 9 or 10 more players this class would easily jump into the top 25 with the Hokies and Wildcats.

Bottom line: Utah didn't have as many spots available this year as a lot of other schools which makes Utah's class look worse than it actually is via the #68 ranking.
For all of the pre-season talk about how great Bronco is with more than a week to prepare and how Holmoe had masterfully set up their schedule for success, BYU sure fell flat on their faces this year.
by UteThunder
2013-12-30 13:53:36
Season Opener @ Virginia - LOSS
Post Bye #1 vs. Utah - LOSS
Post Bye #2 @ Wisconsin - LOSS
Post Bye #3* @ Notre Dame - LOSS
Bowl Game vs. Washington - LOSS

All 5 of their losses came in games they had extra time to prepare. I guess it's a little tougher to win, even with extra time to prepare, when you aren't playing teams like Idaho, UNLV, Idaho State, & Wyoming.

*I realize they played Idaho State the week before Notre Dame, but let's be realistic here; that was a pseudo bye week interrupted by a scrimmage.
One positive about the season . . . Whit seems to have learned from at least one of his past failings by not pulling one of the Freshman QBs off their redshirt.
by UteThunder
2013-11-24 13:25:34
Looking back, most fans were upset that Wynn wasn't allowed to redshirt for a year and play as Cain's backup for a year in order to develop, mature, and grow his body to deal with the rigors of college football. Maybe Wynn wouldn't have suffered all of those injuries if he hadn't been thrown into the fire so early.

On top of Wynn's injuries, the current lack of QB depth can be traced back to this decision. Starting a true freshman QB signaled to all future QB recruits that they would likely have to wait at least 3 years to get their shot if they came to Utah.

I know some here on UF.N think Whit should have burned the redshirt on at least one of the Freshman to get Utah to a bowl game, but looking at the long term health of the program, I'm glad Kyle didn't do it.
Assuming he survives this season, Whittingham will need to win 8 games minimum next year to avoid the axe.
by UteThunder
2013-11-23 17:39:48
Don't tell me about season ticket renewals.

Don't tell me about strength of schedule.

Don't tell me about turnover at the OC position.

Don't tell me about turnover at the QB position.

Two of those things are a result of Kyle's leadership[OC & QB], one of those things He wanted[Michigan & Pac-12], and the last one is more related to Urban's success and the Pac-12 invite than they are to Kyle's W/L total.

Any coach who loses this much(19 losses over 3 seasons with 1 more possible loss coming next week) AND cycles through a new OC every year for 6 years straight, does not deserve to be retained. The QB & OC situations coupled with the losses show a lack of leadership and possibly a lack of competence on KW's behalf.
What a great weekend for football in the state of Utah. Has there ever been a lineup of games in Utah like today?
by UteThunder
2013-10-12 15:48:33
#5 Stanford @ Utah

Georgia Tech @ BYU

Boise State @ Utah State
Great news! Utah wasn't as futile on 3rd down as we have been led to believe!
by UteThunder
2013-09-23 20:22:33
The stat totals list 1/14, but looking at the play by play recap on ESPN.com you can see Utah was actually 2/14.


3rd Down Conversions

On Utah's second possession in the 1st quarter, Utah converted a 3rd & 6 from the Utah 29 by completing a 9 yard pass to Dres Anderson.

On Utah's 3rd possession in the 3rd quarter, Utah converted a 3rd & 1 from the Utah 31 by completing a 6 yard pass to James Poole.
If anyone can find video of the kick return for a TD that was called back for holding, you will be able to clearly see holding.
by UteThunder
2013-09-22 15:24:29
I just checked the return on my DVR and there was definitely holding on that return. I'm not sure it was the same hold the ref saw because the flag wasn't really thrown in the same area/direction, but it was a clear & blatant hold nonetheless.

#16 or #18 for BYU(I can't get a good look at his number) holds our left gunner between the 17 & 20 yard lines near the BYU sideline as Hine goes running past. The holding is so obvious you can see our gunner trying to turn his shoulders to run the other direction but the BYU player is pulling his jersey the other direction with both hands keeping him from turning and running.
Another call the refs missed on the final play of the game. HOLDING on BYU.
by UteThunder
2013-09-22 14:20:28
Watch the BYU left tackle. He wraps his arms around our right defensive end and tackles him. Pause it at :05 and you can see the BYU player's left arm wrapped completely around the defenders back.




So not only was there NOT defensive PI. There was OFFENSIVE PI that wasn't called and a blatant hold on the O-Line that wasn't called. BYU fans have absolutely no room to complain about the officials.
The Curse of Max Hall . . . .
by UteThunder
2013-09-22 11:56:04
Ever since Max Hall unleashed his hate filled tirade of lies about Utah back in November 2009, BYU has been cursed.

Since November 2009 . . .

- BYU landed the #1 QB recruit in the nation only to run him out of town.

- The Pac-12 invited Utah & Colorado.

- BYU's plan to join the WAC blew up in their face.

- Harvey Unga misses his senior season due to honor code violation.

- BYU gets crushed by Utah State in Logan prompting the firing of their DC.

- Brandon Burton blocks the game winning FG in the final MWC matchup between Utah & BYU.

- BYU fires arguably the best OC they've ever had, replacing Anae with Doman.

- Utah crushes BYU 54-10 in the first non-conference meeting between the two.

- Riley Nelson transferred to BYU and became their starting QB.

- Big XII talks with BYU break down. Big XII officials call BYU "a real piece of work" and move on to TCU & West Virginia.

- Big East comes to the same conclusion as the Big XII.

- Utah beats BYU 3 times in one night.

- Scheduling difficulties: A seemingly endless stream of 2-for-1s and 1-and-dones. While Utah gets a home-and-home from Michigan in addition to the perpetual home-and-homes that comes with Pac-12 membership.

- Rivalry game is taking a two year break. Utah's decision.

- BYU is no longer getting 3-for-1 or 2-for-1 from Utah State. Now they play the Aggies on equal terms.

- BYU fires their new "best OC ever!" and bring back the other guy who had become stale and predictable. The only difference now is that he will be stale and predictable at a much faster pace.

- Taysom Hill transfers to BYU and becomes their starting QB.

- Utah beats BYU 20-13 in Kyle Van Noy's "Super Bowl".

- 4 straight losses to Utah.

Have I missed anything?

Enjoy the curse Cougars. It's only going to get worse for BYU.
And Texas fires their Defensive Coordinator. I didn't think their staff would survive the weekend intact. Their OC should be next to go. They couldn't pick up a blitz and they did almost NOTHING to protect their QB and give him a chance to throw.
by UteThunder
2013-09-08 14:40:26
Why wouldn't they roll him out away from the blitz? Why not try some screen passes before the 4th quarter?

I'm still shocked at the way Texas refused to change what they were doing on both sides of the ball.
Over/Under on the number of questions asked at Whitt's presser tomorrow before someone chimes in with a question about BYU/Texas/Holy-War? I'm setting the line at 3.5 and I'll take the under.
by UteThunder
2013-09-08 13:31:49
When it happens, I hope Whitt responds by saying, "No more questions about Oregon State . . . ? Okay. If you'll excuse me, I have a Pac-12 opener to prepare for." And walks out of the room.
If a RB rushes for 2 yards or less on 50% or more of their carries but his total for the game = 4+ ypc, would you say he is a good/effective RB? Would you want him on your team? And his name is NOT Barry Sanders.
by UteThunder
2013-09-04 14:34:36
My thinking is that if your RB is rushing for 0-2 yards(or a loss of yards) on the majority of his carries, he is hurting your team more than he is helping even though he "makes up for it" by breaking off the occasional run of 10+ yards. By rushing for such small gains so frequently he is leaving his team in long 2nd & 3rd down situations.

All RBs are going to have some carries that go nowhere, and sometimes all you need is 1-2 yards for a 1st down, but those should be the exception and not the norm.
BYU charges into season #3 of Independence . . .
by UteThunder
2013-09-03 15:46:40
"Go Fast! Go Hard!"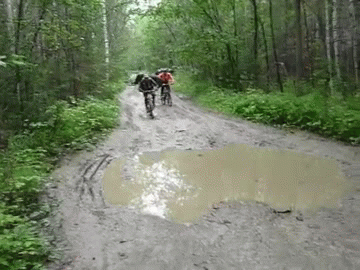 ">
After the opening weekend, teams I feel better/worse/same about our chances for a win . . .
by UteThunder
2013-09-02 10:53:54
Feel slightly better about Utah's chances of beating . . .

- Oregon State: Gave up 49 points in a loss to Big Sky member E. Washington.

- BYU: Offense looked horrible, particularly the O-Line & QB; the defense looked good but it was against a bad ACC team with an even worse QB than BYU. Lost 19-16 @ Virginia.

- USC: Less than stellar performance against a very bad Hawaii team. Won 30-13.


Feel slightly worse about Utah's chances of beating . . .

- Weber State: Scored 50 in a win over S.F. Austin. But more than that, it is the 8 FCS teams that upset FBS teams this weekend.

- UCLA: Crushed Nevada 58-20.

- Washington State: The Cougars played Auburn tough in a 31-24 loss and had a couple of late possessions where they drove deep into Auburn territory, but they just couldn't score the tying touchdown.

- Colorado: Looked like a very improved team over what they were last year in a 41-27 win over CSU. Hard to tell though if CSU is really bad or if CU is really improved.


Feel exactly the same about Utah's chances of beating . . .

- Stanford: Stanford opens their season this Saturday vs SJSU.

- Arizona: Beat Northern Arizona 35-0. Not an impressive opener, but not a poor one either.

- Arizona State: ASU opens their season this Thursday vs. Sacramento State.

- Oregon: Beat Nicholls State 66-3. Looks like Oregon is picking up right where they left off. Then again, it was an FCS opponent.
One area of definite improvement on Thursday: Sustained Drives
by UteThunder
2013-09-01 17:04:50
Last year, the offense routinely had drives lasting anywhere from 1 to 4 plays before a turnover or a punt. In many of our games, the number of drives with 4 plays or fewer was greater than the number of drives with 5 plays or more.

On Thursday, Utah had 8 drives of 5 plays or more and only 5 drives of 4 plays or fewer(one of which was a 4 play drive to end the 2nd quarter).

Having the ability to sustain drives will be big for our defense going against all of these hurry-up/no-huddle offenses.
It's about a quarter after five in Virginia right now. How funny would it be if this weather delay carries through till tomorrow and they have to cancel/postpone the game?
by UteThunder
2013-08-31 15:16:26
I guess they would finish the game when both teams have a bye, right?

BYU has a bye on September 14th. No secret that they scheduled that bye to give themselves an extra week to prepare for Utah.

Coincidentally, Virginia has a bye on . . . . SEPTEMBER 14th!

If this weather delay can last 6 hours or so(wishful thinking, I know) BYU's carefully planned advantage will be negated because they will have to fly back to Virginia to finish the game a week before playing Utah!

I hope so badly that this happens.
Predictions for Utah, Utah State, & BYU
by UteThunder
2013-08-26 12:08:32
Utah
Utah State----------------WIN
Weber State---------------WIN
Oregon State--------------WIN
@ BYU---------------------WIN
UCLA----------------------WIN
Stanford------------------LOSS
@ Arizona-----------------WIN
@ USC---------------------WIN
Arizona State-------------WIN
@ Oregon------------------LOSS
@ Washington State--------WIN
Colorado------------------WIN

Regular Season Record: 10-2

Most of this prediction is based on how close Utah was to winning so many of the games we lost last year despite all of our deficiencies. Utah State, Oregon State, UCLA, Arizona, & USC were all there for the taking but we just couldn't make those handful of plays in each game that were necessary to turn the tide in our favor. I believe our deficiencies have been addressed and the team will make those plays this year. Perhaps I am being a little too optimistic, but I really believe Utah is going to win at least 8 games with a good chance at 10 wins . . . . Then again, I have my moments when I am worried we will finish 5-7 again.


Utah State
@ Utah---------------------LOSS
@ Air Force----------------LOSS
Weber State----------------WIN
@ USC----------------------LOSS
@ San Jose State-----------WIN
BYU------------------------WIN
Boise State----------------LOSS
@ New Mexico---------------WIN
Hawaii---------------------WIN
@ UNLV---------------------WIN
Colorado State-------------WIN
Wyoming--------------------WIN

Regular Season Record: 8-4

Many people believe the Aggies will take a huge step back this year because of the coaching and conference change. I disagree. Returning 18 starters including their QB and all 5 O-Linemen will be huge in smoothing the Aggies' transition from Andersen to Wells and from the WAC to the MWC. On top of that, it's not like going from the WAC to the depleted MWC is going to be that difficult of a transition. Utah State has already been playing a "MWC" schedule for most of the last 4 years. And of the 12 opponents the Aggies face this year, they have played 9 of them at least once in the last 4 seasons: BYU(4), San Jose(4), Hawaii(3), Utah(2), Boise(2), Colorado State(2), Wyoming(1), Weber(1), UNLV(1). On top of that, they have played Nevada(2), Fresno(2), & San Diego State(1) in recent years and the Aggies avoid all 3 of those teams this year. The MWC schedule is not going to be anywhere near the shock to USU as the Pac-12 has been for Utah.


BYU
@ Virginia-----------------WIN
Texas----------------------LOSS
Utah-----------------------LOSS
Middle Tennessee-----------WIN
@ Utah State---------------LOSS
Georgia Tech---------------WIN
@ Houston------------------WIN
Boise State----------------LOSS
@ Wisconsin----------------LOSS
Idaho State----------------WIN
@ Notre Dame---------------LOSS
@ Nevada-------------------WIN

Regular Season Record: 6-6

Last year, BYU got a small taste of what Utah has dealt with for the last 2 seasons – a big time schedule. And it showed with the Cougars posting their second worst record since Bronco's first season. Against the "Big Boys" on their schedule they were 2-4(Washington State, Utah, Boise State, Oregon State, Notre Dame, Georgia Tech). This year, BYU gets a bigger taste of that big time schedule, playing 6 teams from BCS conferences plus Boise State and what should be 3 very difficult road games at USU, Houston, & Nevada. I expect BYU to experience many of the same struggles Utah has had the past 2 years.
It's funny to me how BYU fans can listen to the Monson-Poppinga interview and come away with such a distorted viewpoint of what happened.
by UteThunder
2013-08-21 23:24:56
BYU fans applaud Poppinga for "totally putting Monson in his place!" during the interview.

Meanwhile, anyone with an I.Q. over 72 laughs at Poppinga's inability to make one coherent argument during the interview.


They truly live in their own world.
Could this season get off to any worse of a start?
by UteThunder
2013-08-08 12:30:13
Death of a player.

Multiple hamstring pulls.

Hooker concussion could be career ending.

Blechen redshirting for tendonitis.

Lozano quitting.

Can we get just a little good news?
By playing our opener on a Thursday, does Utah get 2 extra days of practice this season?
by UteThunder
2013-07-22 13:54:22
Every team is allowed the same number of practices during fall camp, but because our opener is 2 days earlier it seems that we get 2 extra days of practice. The 2 extra days of practice don't happen during fall camp obviously; they would be the 2 days following the opener.

Is this correct?
2-for-1 for USC, Arizona, and Stanford . . . If this continues, it just might kill the Utah/byu rivalry.
by UteThunder
2013-07-11 17:49:59
We can't be the only Pac-12 team giving byu 1-for-1 while everyone else gets 2-for-1.

I understand an elite program like USC getting a 2-for-1, but Stanford and Arizona are no more elite than Utah. They both play in stadiums with a capacity of ~ 50,000 and they both struggle to fill their stadiums; playing in front of 1/2 to 3/4 full stadiums on a regular basis. On top of that, aside from Stanford's 3 most recent seasons and a few random seasons for AZ, both programs have been mediocre to bad for the last 20+ years.

Stanford is 119-115-2 over the last 20 years with 12 losing seasons.

Arizona is 122-117 over the last 20 years with 9 losing seasons.

Utah is 163-79 over the last 20 years with 3 losing seasons.

If byu is going to give 2-for-1s to our conference rivals whose program's are no better than Utah's, it doesn't make sense for Utah to continue scheduling byu if it is on equal terms. Eventually, byu will have to pony up and give Utah 2-for-1 or 3-for-2 or the Utah admin will have no choice but to stop scheduling byu.

IMO, it's similar to byu giving MTSU a home-and-home but then asking USU to play twice in Provo and only once in Logan. USU is equal to or greater than MTSU and should expect to be treated as such. Utah, as a program, is equal to or greater than several programs in the Pac-12 and should expect to be treated as such.
Stat of the Day . . .
by UteThunder
2013-07-09 14:38:22
Over the last 11 years, Utah's football team has the same number of wins against Utah State as it does BYU - 8 Wins vs the Aggies & 8 Wins vs the Cougars.

Go Utes!
SI write-up giving grades to all of the teams involved in conference realignment back in 2010.
by UteThunder
2013-06-11 11:24:54
Conference Realignment Report Card


Hard to argue with the grade given to Utah at this point.
In reply to everyone who has a problem with my message below.
by UteThunder
2013-05-26 09:37:18
Utefans.net Terms of use:


Image posting guideline: Utefans.Net is a site geared toward University of Utah Athletics for Ute fans. It is not a place to cause "T & A," "Cheesecake" or sexually arousing images of any sort to appear on the screens of unsuspecting readers. If you cannot somehow relate the image you're posting to Utah Athletics or the world of sports in general, then you should not post it. Abuse of this guideline is cause for your removal from using the website.





Personally, I don't find any of these images to be offensive, but there are people who do, like my employer. And I guarantee I'm not the only one with an employer who would have a problem with some of the images embedded on this site.

I was simply voicing my disappointment with having ufn blocked by my employer because a few people on this site can't follow the rules and/or use a little discretion and self-control when posting images.

If anybody has a problem with that, then go hug yourself firmly.
Seems like the perfect time to say thank you to everyone.
by UteThunder
2013-05-25 21:58:12
Thank you to everyone who posts messages with sexual images embedded, like the one below this message, without linking to it with an NSFW.

This past week Utefans.net was classified as "adult content" by my employer and it is due to these types of images being embedded. I am no longer allowed to access utefans from work during my down time because of this.

So a great big THANK YOU to everyone who had a hand in making this happen.
Some opening weekend betting lines . . .
by UteThunder
2013-05-19 18:14:16
Games of interest:

Utah State
Utah -4.5

USC -24
Hawaii

Washington State
Auburn -14

Northwestern -6
California

Nevada
UCLA -13

BYU -4
Virginia

Boise State
Washington -3

UMass
Wisconsin -45

Colorado -4.5
Colorado State

LSU -4.5
TCU

More Lines
Holy moly! Check out Weddle's 3 year old son doing pushups.
by UteThunder
2013-05-16 13:57:08
---
Top 10 Most Recently Posted Messages:
Here is a summary for anyone interested . . .
(2 days ago, 6 stars)
Every time Runge referred to the red team as the "Reds" I wondered if this wasn't the beginning of a re-branding effort and over the next several years we will see a gradual change from Utes to Reds.
(3 days ago, 0 stars)
Just wanted to give a plug for a website I came across.
(12 days ago, 0 stars)
100 dollar move, 10 cent finish.
(13 days ago, 2 stars)
Similar to your argument that Wilson isn't a good QB. No consideration will be given for extenuating circumstances.
(15 days ago, 0 stars)
But is 8-5 with a top 10 SOS perfectly reasonable?
(15 days ago, 0 stars)
Depending on which ranking you use, yes, you can find several teams in the top 10 for SOS. However . . . .
(15 days ago, 0 stars)
Wrong.
(15 days ago, 2 stars)
Democracy: Who needs it, right? %)
(16 days ago, 1 stars)
If some people feel excluded, why not change it? I'll tell you why not . . .
(16 days ago, 6 stars)
. . . . Go Hawks!
(16 days ago, 12 stars)
So, the song covers male students(Utah man am I), and female students(fairest coeds), but the song isn't inclusive? WTF?
(16 days ago, 0 stars)
So our corners and LBs aren't responsible for pass coverage?
(17 days ago, 0 stars)
My 2 cents
(19 days ago, 0 stars)
If Utah was New Mexico and Cal was UCLA, then I might worry.
(21 days ago, 8 stars)
Yeah, minor offenses like this usually end with a quick booking at the jail and a near immediate release without bail which is why a cop won't take someone to jail for traffic violations unless they are being an #@%hole or refuse to sign the ticket.
(22 days ago, 0 stars)
Oh, the officer could have taken her to jail. An officer can take you to jail for a violation as minor as a speeding ticket but they have the discretion to cite and release.
(22 days ago, 0 stars)
If Larry is approached by Cal, I would imagine he will use the Bears as leverage for a raise. LK isn't leaving Utah for Cal.
(22 days ago, 0 stars)
I got a nice set of new TaylorMade irons at Edwin Watts Uinta for less than $400.
(22 days ago, 0 stars)
More than Wilson being injured? Not sure I agree with that.
(23 days ago, 0 stars)
After having met Tony Parks in a professional setting and seeing just how much of a used car salesman/bull$#!++er he is, I don't take anything he claims as "sourced" seriously.
(24 days ago, 5 stars)
Your story is correct, although not necessarily the specific example. An offense has an unfair advantage if they are able to spread a defense out the full length of the court, especially in the pre-shotclock era.
(24 days ago, 0 stars)
Fair enough, but my original comment was in relation to this specific case. And in this specific case it is extremely far-fetched to believe the police started it; especially if you are saying they started it by ordering the crowd to disperse.
(25 days ago, 0 stars)
Causation and escalation are not the same thing.
(25 days ago, -1 stars)
Oh my god, yeah . . . . "the cops started it" . . . %)
(25 days ago, 1 stars)
I can only think of a handful of college jobs Larry would leave Utah to take. Marquette isn't one of them.
(27 days ago, 3 stars)
Yes and yes.
(29 days ago, 1 stars)
Will you settle for a road win at Arizona(2011)?
(29 days ago, 4 stars)
But what about all the hours spent in class and doing homework . . . . ? They'll get paid for those, too, right? ;)
(30 days ago, 1 stars)
After the disappointing news I received today, nothing could ever sum up how I feel about my job right now better than this . . .
(30 days ago, 5 stars)
First, I have to reply to your closing statement, and then I will give my number and reasoning.
(30 days ago, 1 stars)
BYU would lose half their football team and a quarter of their basketball team if the honor code office knew about every violation that occurred.
(31 days ago, 2 stars)
Posting information is fine. Using legal/personal problems as rivalry smack is where it starts to get uncomfortable. I see nothing wrong with the OP's message.
(33 days ago, 3 stars)
Alternating USU/BYU could only have hurt our RPI this year.
(34 days ago, 2 stars)
Rumor has it they are already on the BigXII's radar for their eventual move to 12 teams.
(34 days ago, 0 stars)
I can't comprehend how the idea to videotape yourself violating strangers' personal space is funny or a good idea.
(36 days ago, 0 stars)
Chris Hill said that renovations were pushed back a few weeks so that the Huntsman Center would be available to host any post season games if necessary.
(38 days ago, 0 stars)
I don't hate it, but the block U is just way too generic, especially in comparison to the Drum and Feather.
(42 days ago, 2 stars)
I grew up within walking distance of that place. Video games, Mini Golf, Roller Skating, Bowling, Batting Cages. The 49th Street Galleria . . . man, the memories.
(42 days ago, 1 stars)
I would bet he ends up in New England.
(44 days ago, 1 stars)
Maybe, but 21st best college basketball player does not equal 21st best NBA prospect in this year's draft.
(45 days ago, 6 stars)
The first two girls to get knocked to the ground flopped, big time.
(45 days ago, 1 stars)
The only way a #1 seed can validate the committee's decision is to make it to the Final Four. And how can you knock any team that gets to the Final Four? No matter what your seed is, you will have to beat some good teams in the Sweet 16 and Elite 8.
(49 days ago, 0 stars)
I wouldn't have given it a second thought if it had been me. There is nothing offensive or demeaning about our logo and nickname.
(53 days ago, 10 stars)
12 years of mediocrity after being the number 2 pick is pretty close to bust territory. He never even came close to expectations/projections.
(55 days ago, -2 stars)
Read the news reports. He has been cleared for NON-CONTACT. Until he is cleared for FULL CONTACT, his return means very little, hence the cautious optimism.
(58 days ago, 2 stars)
He won't take away reps from anyone? How do you figure?
(58 days ago, 0 stars)
Love the news that Wilson is back, but cautious optimism is warranted.
(59 days ago, 4 stars)
Sometimes the visit is worth it. Take today for example . . . .
(59 days ago, 10 stars)
Hardly. You are saying that Utah is currently better than Colorado based on comparative scores. Using Utah/UCLA head to head doesn't do anything to prove that Utah is currently better than Colorado. Maybe after the 2nd matchup we will be able . . . .
(61 days ago, 2 stars)
No, they beat us by a larger margin at their place.
(61 days ago, 0 stars)
Comparative scores never works, especially when you are trying to justify a head to head loss.
(61 days ago, 4 stars)
Never underestimate the NSA's reach.
(63 days ago, 12 stars)
I am interested. Sending Boardmail.
(66 days ago, 0 stars)
Thought Bubble: "I'm going to be so rich when I sue this company for sexual harassment."
(69 days ago, 7 stars)
I guess it depends on the type of emergency. Earthquake? Yep. Fire? Definitely. Sniper/shooter or a bombthreat? Yikes.
(69 days ago, 0 stars)
I know it would cost millions, but what if . . . .
(69 days ago, 0 stars)
Never said that. He should be rewarded for the job he is doing. The problem is, by doing it now we drive up the future price to keep him which is just stupid and irresponsible.
(69 days ago, 0 stars)
While I agree that Larry seems to be a great coach, there is no reason to extend him or give him a raise at this point.
(69 days ago, 0 stars)
No, you give him a bump in pay when another team comes calling or near the end of his current deal after demonstrating he is a successful coach. Didn't Boylen get a raise and extension after one good year eventhough nobody was after him?
(69 days ago, 0 stars)
^^^^^^^ Narc ^^^^^^^
(70 days ago, 6 stars)
Those pics only make Newbomb's "Get BEHIND that" comment even more appropriate.
(71 days ago, 11 stars)
Dan Mullen: Not a QB
(71 days ago, 0 stars)
Did you play football at Missouri? ;)
(71 days ago, 5 stars)
Still doesn't say assistant HEAD coach . . . .
(72 days ago, 1 stars)
A coach's perspective . . .
(72 days ago, 2 stars)
Orgeron isn't coming to Utah to be a position coach. Hell, he isn't going anywhere to be a position coach.
(72 days ago, 9 stars)
This shouldn't bother anyone.
(73 days ago, 10 stars)
Interesting. And Doman recruited Utah for BYU while Holliday has recruited the south during his career. Hmmm . . .
(73 days ago, 1 stars)
What were Jay Hill's and Brian Johnson's recruiting areas?
(73 days ago, 0 stars)
Are you the same Ylife on cougarboard? Because if you are, I just have to ask . . . .
(74 days ago, 32 stars)
Guilty as charged, your honor . . . :)
(74 days ago, 2 stars)
I don't really have a problem with Smart's reaction, regardless of what was said.
(74 days ago, 5 stars)
I'm interested to hear which states are violating the 1st amendment to the U.S. Constitution . . . ?
(74 days ago, 0 stars)
Regardless of next year's results, Hill has not been too loyal or lenient with Whit.
(74 days ago, 9 stars)
Go to Relief Society
(74 days ago, 5 stars)
I don't know which is worse: The byu fan's attempt at humor or the Ute fans who think he is being serious.
(75 days ago, 6 stars)
Because, those spots are needed this year for returning missionaries from previous seasons and some of those spots could be used for some unexpected transfers/late qualifiers and such.
(77 days ago, 0 stars)
The last rumor I head was last Summer after the swimming investigation was concluded. People were saying he would retire in November. The rumors were probably just that, rumors.
(77 days ago, 1 stars)
Some things to consider when looking at Utah's #68 recruiting ranking on Rivals.
(77 days ago, 5 stars)
Schools are only allowed to sign so many kids each year. If a kid who is going straight out on a mission signs with a school then they would count against that year's allowed total. By not having them sign, Utah can maximize their . . . .
(77 days ago, 2 stars)
The point is, He said Utah isn't even close to any of the OP's expectations. Just pointing out that Utah actually is close to the bottom half of his expectations.
(77 days ago, 0 stars)
8-5, 5-7, 5-7 isn't too far off from 7-6, 7-6, 8-5 . . . .
(77 days ago, 1 stars)
Fact checking? Verifying sources? Who does those things anymore?
(78 days ago, 2 stars)
The scariest part is how many times they let him come back and take the microphone. That has to be the worst security ever.
(80 days ago, 8 stars)
Pessimistic? Yes. But that doesn't mean it is unrealistic.
(82 days ago, 1 stars)
I anticipate seeing 5-10 of Utah's current commits flipping and signing elsewhere on signing day. Back to back losing seasons coupled with the revolving door at OC just can't be very appealing to recruits with other options. Hopefully I am wrong.
(82 days ago, 1 stars)
And I tell my kids it is the Tooth-Fairy who leaves a dollar under their pillow after they lose a tooth.
(83 days ago, 3 stars)
Larry did NOT lose money on the Jazz. Donald Sterling has made millions upon millions, year after year off the Clippers despite sucking for decades. Aside from a few years recently, the Jazz have always been competitive and the arena full.
(83 days ago, 5 stars)
I would like to see an update on the Gobblin pusher's disability/injury lawsuit.
(84 days ago, 9 stars)
This has clearly been photoshopped . . . . everyone knows that bankruptcy comes AFTER divorce. ;)
(85 days ago, 3 stars)
I say go with little league rules. Run it in = 1 point, Pass it in = 2 points.
(94 days ago, 0 stars)
Is that the infamous Bud Light Peyton Manning couldn't wait to get in his mouth?
(94 days ago, 3 stars)
I guarantee they were at the game.
(96 days ago, 1 stars)
Until Utah experiences sustained success in the Pac-12 in both Football and Basketball, these types of comments will be used by the media.
(96 days ago, 0 stars)
According to some UF.N members, the Ute tribe has asked the University to minimize/eliminate Native American imagery in exchange for using the name, meanwhile the Seminole tribe has not made those same requests.
(96 days ago, 0 stars)
Interesting.
(98 days ago, 0 stars)
Not true.
(98 days ago, 2 stars)
I don't buy that for a second. If Whit is replaced anytime soon it won't be a coach who is as close to retirement as Erickson is.
(99 days ago, 2 stars)
Go back and read your Subject line and the second sentence of your post. It was definitely implied that Pinkel and Daniels were largely responsible for DC's success but in Wyoming DC gets the blame for poor results "on his own" . . .
(101 days ago, -1 stars)
Top 10 Most Recommended Messages:
You mis-spelled 'cougar' in the subject line. (50 stars)
2012-05-26 12:08:35
Sincerely, 4th and 14 in the Sun Bowl (45 stars)
2012-02-17 16:13:48
Football memory, why I will never forget Brandon Burton's blocked FG and will always consider Brian Blechen a stud. (44 stars)
2012-06-05 11:15:19
Ute version of the byu fan playbook (Not sorry if already posted.) (44 stars)
2011-09-16 10:52:06
Nice story about Eddie Wide from yesterday's activities . . . . . (39 stars)
2010-04-18 15:06:46
No, it was more recent than that. 1995 - Greg Ostertag (38 stars)
2013-04-03 10:17:39
Don't be surprised when you show up on Sunday and you're both wearing byU ties. (38 stars)
2010-11-23 10:42:25
p.s. Nice wins against 4-7 Texas, 6-6 Oklahoma, & 6-5-1 Notre Dame. (34 stars)
2011-08-09 16:58:12
Are you the same Ylife on cougarboard? Because if you are, I just have to ask . . . . (32 stars)
2014-02-09 20:26:36
The Curse of Max Hall . . . . (32 stars)
2013-09-22 11:56:04
Top 10 Most Viewed Messages:
And with the 71-59 win, the Utes improve to 15-0 . . . . (1790)
2011-12-16 21:09:43
Ted Miller rates KW as the coach with the second most job security in the Pac-12 (1746)
2011-12-13 11:27:24
Utah & byU vs. Pac-10 (1410)
2010-06-27 17:03:30
Jason Day's wife every day and twice on Master's Sunday. (1394)
2011-04-10 16:57:12
So, now that Bin Laden is dead, will gas prices sky-rocket or plummet? (1162)
2011-05-01 21:16:51
"It's art. Anything is anything." - Ron Swanson (874)
2011-02-20 22:01:19
So PK mentioned on the radio yesterday that byu coaches are telling recruits they will be joining the Big12. (747)
2011-08-09 10:00:32
If you needed further evidence of the SL media bias against Utah . . . . (741)
2011-04-03 20:39:40
Pac 12 schedule and division split (689)
2010-05-22 15:45:43
Thad Matta - The love child of Larry Bird & Gene Hackman? (687)
2011-03-20 16:24:28