Forget the Swamp, forget SUU, SDSU and definitely forget the ASU game – the Beavs are our first serious test in 2022, if we're going to go back to the Rose Bowl.
We're at Game 5, both teams should have their correctable problems largely addressed, and both teams are dead serious about wanting to play in Las Vegas to determine who will represent the PAC in Pasadena on January 1, 2023.
Utah remembers the sting of getting ambushed in Corvalis last year, and there won't be any deficit of motivation or focus for this game. Oregon State lost a game they should have won against USC at home on Saturday, but it would be a mistake to assume they have a hangover about what might have been.
Utes Offense vs OS Defense
The Beavs are really aggressive on defensive, with an odd front and lots of athletes who swarm and cover very effectively. We all remember it well.
The Utes offense took a major blow when TE Brandt Kuithe's season ended in Tempe, though Dalton Kincaid #86 has been highly effective, and Thomas Yassmin #87 took no time in getting himself on the highlight reel with a 58 yard reception. USC transfer McClain Munir #4 had snaps vs ASU, so don't be surprised when his name is called.
To help buffer the loss of Kuithe, the Utes WR corps proved their larger presence against SUU wasn't a one-shot performance, with Devaughn Vele #17 and Solomon Enis #21 in particular having good performances vs ASU. Jaylen Dixon #25 added a TD on a jet sweep, and the other jet quick WR Money Parks #10 is showing the praise from fall camp wasn't false.
The RB room got a little bigger after Chris Curry went down against SUU, with QB3 Ja'Quinden Jackson #3 showing the talent & character he brings to the team, not content to ride the bench behind Rising and Barnes. Freshman Jaylon Glover #1 showed how he ran for 6000 yards in his HS career in Florida, a nice combination of power & elusiveness at 5-7/205. The Utes have four legit RBs, with Micah Bernard #2 in particular a serious pass threat, and Tavion Thomas #9 looking to continue the breakout performance he had last year.
The OL appears to be gelling as expected, and though they don't always blow massive holes in the defense, at the P5 level and above that's a rare phenomenon.
OS Offense vs Utah Defense
It's still early in the season, but USC's defense was not supposed to be really strong, so it's unclear why the Beavs only got 14 points in that big game at home. QB Chance Nolan is more than a game manager, but OS does rely a lot on the run game… another memory from last year's game. Nolan threw 4 picks vs USC, so he'll want to atone for that performance, but threw to 7 receivers in that game, including a 30 yard rumble by tough guy Jack Colletto, who seems to be the heart and soul of the offense.
The Beavs ran for 167 against USC (including sack yard deductions) so the Utes' defensive status as run stoppers will unquestionably be put to the test on Saturday. Long gone is Baylor, who terrorized us in Corvalis. The top RB appears to be #8 Jam Griffin, a 5-9/210 lb SO from Georgia.
Special Teams
This hasn't been a pivotal aspect for either team so far this year, but football is a three phase game, so don't be surprised if ST is a major factor on Saturday.
Summary
OS Head Coach Jonathan Smith is the real deal, he's the coach that program has been searching for, was a nice QB for them when they had notable success. Smith has quickly instilled toughness and discipline in a program that was bouncing around in the lower third of the league, and he's recruited impressive talent.
The game is a 12 noon kick, which is 11am in Corvalis, so it's possible there could be a slow start for the Beavs, but I wouldn't count on it. It will be important for Utah to start fast and strong, because Oregon State is a team that will beat you if you don't bring your A-game.
My sense is Utah knows everything that is on the line with this game, and dropping this one if not optional if we're going to play in Las Vegas, and then (hopefully) in Pasadena. Our player leadership will make sure the players are primed, and the coaches will have a solid game plan ready.
I'd bet Smith knows he'll need to be unconventional on offense to have success against our D, so it will be a tough combination of playing disciplined in assignments, along with enough punch to bottle up their run game. We struggled with that combination last year, I sense Scalley, Bishop, Tafuna, Phillips, Fillinger and the Reid brothers want that game to be seen as an unambiguous anomaly.
On Offense, Ludwig and Rising have a number of weapons to try and make the Beaver defense wilt in the high desert in the sun. A fast start is the preference, of course, but if need be it may take a while to see where we need to attack their D, and with what weapons, what plays.
I think the Utes get redemption for last year.
Utah 27
Oregon State 17
Summer in Salt Lake City in 2022 – beside the record setting heat – was pretty uneventful. No pervasive wet campfire smell, little of the smoke that dominated the 2021 summer season. No earthquakes, tornadoes, no crazy windstorms. Not too many local wildfires, for that matter. Pretty boring, if hot.
That all changed when Jon Wilner broke the story that UCLA and USC were going to announce they'll be moving to the B1G conference after the 2024 season. Then all hell broke loose. Rumors began flying about Oregon & Washington going next, possibly including Cal and Stanford, and there was no shortage of rumors coming out of the Big-12 that the PAC was near collapse and that they intended to pick off the rest of the PAC schools.
A few weeks later PAC commissioner George Kliavkoff called the Big-12 on their destabilization attempts, and the PAC went into negotiations with their major media partners on getting better revenue than the previous contract provided, etc.
By the time the football season started this year, all the rumors of the PAC's impending demise within days, perhaps weeks, amounted to doodley squat.
While the final results of the realignment starting with the LA schools moving to the B1G are yet to be fully manifested, one event emerged that changed the entire situation dramatically – the College Football Playoff will be expanded to 12 teams.
In my opinion, the expanded CFP changes the entire landscape. Instead of a rush to two superconferences spanning 4 times zones, access to the playoffs appears to be within reach for many schools and conferences.
College football just might survive, after all.
How does this affect Utah? For the immediate future, the ball is now in the court of the PAC to see how much of the media money gap can be closed, and to possibly entice those schools who may still wish to go the B1G to stick around and see what can be done. The primary media players of ESPN, FOX and the major networks will get the PAC part of the way there, but it appears a major wildcard could be alternate media partners, like Apple, Amazon and perhaps others.
Amazon began streaming NFL Thursday Night Football this season, and in Week 1 they pulled in 13 million viewers, and – crucially important to them – added over 3 million Amazon Prime subscribers. Will Apple seek to match that? How much will high end non-NFL football in the western timezones factor into those decisions? It's impossible to know, at this point, but the potential seems pretty significant.
One very wise PAC head coach made an observation I think may prove prophetic – David Shaw of Stanford said he wouldn't be surprised if after 5 or 10 years, one or both of the LA schools may come back to the PAC. Kliavkoff certainly kept the door open with his remarks on PAC media day, taking the high road in answering questions about what could have been seen as deceptive interactions with USC and UCLA before their announcement.
NFL people and Major League Baseball have known for a long time that eastbound travel is disproportionately difficult when trying to maintain a high level of athletic performance. This topic has been studied in depth, it's not a mystery. The huge irony is that much of the research on the effects of jet lag have been done at USC.
If the PAC can stay intact, and possibly grow by a school or two, the supposed emergence of a "west wing" of the B1G may never materialize, which would put UCLA and USC on an island, with the closest conference school being Nebraska, 1500 miles east of Los Angeles.
David Shaw could be proven correct in his hunch that after 5 years or more of struggling futilely in a conference that is highly competitive, with 4 or 5 or more eastbound trips of 2 or 3 timezones of travel, the LA schools may seek to come back out west, especially if they never sniff the playoffs while former PAC foes get in regularly.
Nobody knows with certainty what's going to happen, but that elation Ute fans felt when they were invited to the PAC in 2010 may be extended, indefinitely. Road trips to the Bay Area, the Northwest, to Arizona and possibly San Diego would still be on, with Stillwater, Ames, Manhattan (Kansas), Lubbock, Waco, Morgantown and Cincinnati being the travel schedule of BYU fans.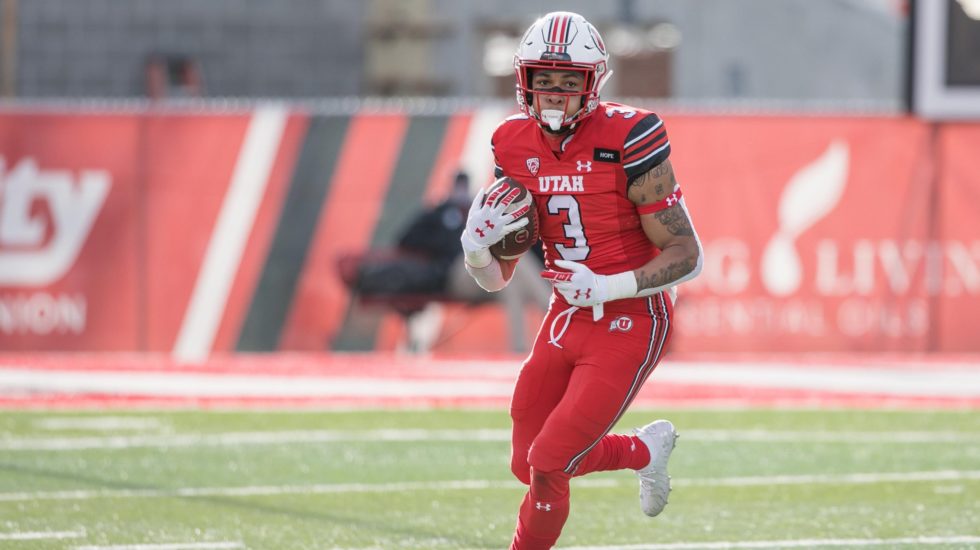 Running Back, Football Team
BERNARD QUICK HITS
23 career games at Utah, six starts (5 at RB, 1 at CB in 2021).
Two career 100-yard rushing games (2021).
2021: Played in all 14 games with six starts (5 at RB, 1 at CB), recording 87 carries for 523 yards (6.0 ypc) and two touchdowns while leading the running backs with 26 catches for 251 yards (9.6 ypc) and two touchdowns.
Career-high 146 rushing yards and one touchdown on 12 carries against BYU, recording a career-long 50-yard rush in the game as well.
His 12.2 yards per carry against BYU ranked fourth all-time at Utah in a single game.
Recorded 12 rushes for 110 yards (9.2 ypc) and an 11-yard rushing touchdown at Stanford, adding two catches for 32 yards that included a career long 28-yard reception.
94 all-purpose yards in Utah's win over Arizona, including a career-best 60 receiving yards.
Career-high 17 carries against San Diego State for 47 yards.
Started at cornerback in Utah's Rose Bowl appearance vs. Ohio State, recording a team-high 10 tackles while also rushing three times for 31 yards with two catches for 15 yards and a receiving touchdown.
Caught his first career receiving touchdown against Oregon State (14 yds).
2020: Played in all five games with 15 carries for 76 yards (5.1 ypc), adding four catches for 25 yards (6.2 ypc).
Career-high 26 rushing yards on three carries against Oregon State, also recording a career-long 24-yard rush.
Career-high five carries at No. 21 Colorado for 14 yards.
2019: Redshirt.
Saw action in four games on special teams.
High School: Three-star recruit by Rivals and 247Sports out of Gahr HS.
2017 All-CIF Southern Section Division 10, Cal-Hi Junior all-state and Area Offensive Player of the Year.
Two-time all-area, earning first-team honors in 2017.
100 carries for 716 yards (9 TD) as a senior in 2018, averaging 7.2 yards per carry and 71.6 yards per game. Also had 606 yards receiving (6 TD) for 1,322 all-purpose yards.
259 carries for 2,411 yards (27 TD), averaging 9.3 yards per carry and 200.9 yards per game with 10, 100-yard rushing games in 2017.
SoCal Prep Legends Boys Athlete of the Week after a 224-yard rushing, three touchdown performance against St. Anthony.
Also competed in track and basketball.
Personal: Name is pronounced muh-ky … majoring in communications.